This evening I am bringing you a guest post from Melanie who writes the blog
Shades of Melanie
. Melanie is a speech-language pathologist and also has a brother who has autism. She has a unique blog that is dedicated to speech-language pathology topics but topics that also touch on what it's like to be a sibling of someone who has autism. This guest post is very personal for Melanie and touches on her life as a sibling of someone who has autism. She refers to herself as her brother's "keeper" in a sense, and as you read more, you will find out why.
I will say that this post also discusses the movie My Sister's Keeper and may contain a few spoilers, so if you have yet to see it and it's on your "to watch list" then you might want to be careful with reading this post. Take it away, Melanie, and thank you for sharing your experiences with us!
---------------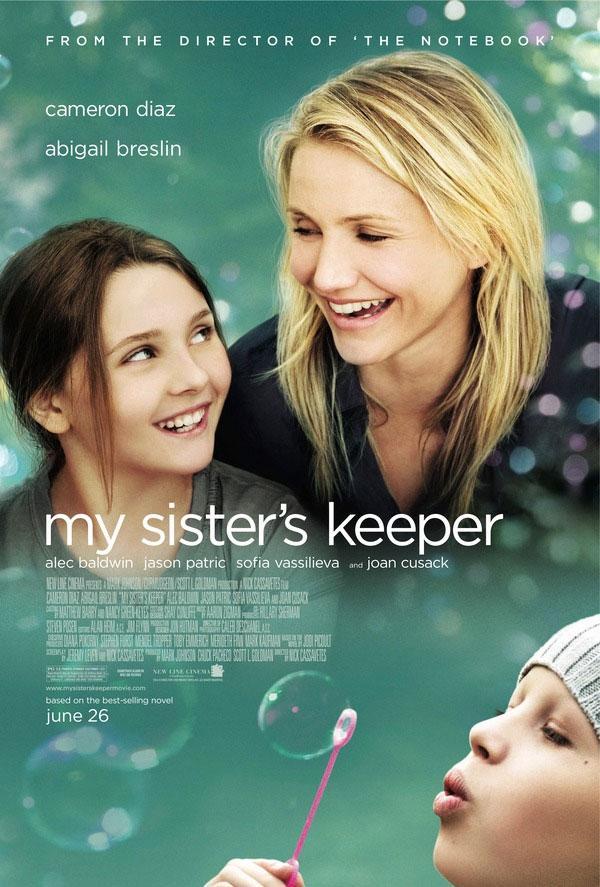 I finally did it... I watched "My Sister's Keeper," the movie based on Jodi Picoult's novel. When I first heard of its release and saw the trailers, I avoided seeing it. I wasn't ready. I knew it was going to touch upon issues that I have been facing for so many years, and I didn't want to have it all manifest before my eyes in a movie. Friends and co-workers who have seen this movie or read this book, and know about my relationship with my brother, have warned me frequently about how heart-wrenching it was and how it would "hit close to home". But, my "brother" (A.K.A. one of my best friends who is also a SIB) convinced me last month to finally watch it; he said he was afraid too, but that one of the best parts is that other people who were not fully aware of how we felt were finally able to get a small taste of what it's like for us as SIBs. And so I agreed-- we watched the movie last night.
By the end of the movie, I was curled up on the couch after using fast-food napkins as tissues to soak up the faucet of tears that kept coming out. I wasn't sure what made me cry more-- the poor fate of Katie (the child with Leukemia) or the frustration and tension within in the rest of the family that resulted of her situation.
I must put a disclaimer out here that my life is not exactly how Ana (the youngest child, genetically prepped and birthed to be Katie's donor) had in the story, but her frustration was pretty close to what I have felt. Ana sued her parents for "Medical Emancipation"/ the right to choose what to do with her own body. She had "enough" of "taking care of her sister" the way she was designed to do. Now, I never needed to donate anything (so far) to my brother. But there was a sense of "duty" bestowed upon me by my parents that I NEEDED to take care of my sibling. And of course I did. But it meant not having the typical middle school/high school life. I couldn't leave the house when I wanted to; I needed to wait for someone to release me from my babysitting duty. Most of the time, this meant not hanging out with friends (which was SO important as a teen), and in the long run, meant lack of solid friendships in my teen years. I was always told that, "You are always working or studying" by classmates who invited me out. But I never spoke up then. I let it all bottle up inside of me.
Even now I don't ever remember fully letting out all these emotions, unlike Ana, who at one point at the dinner table said something along the lines of "What about me? I'm important, too!" I let it all eat me inside and went to the school counselors weekly. A college counselor at my high school heard my story and had a meeting with my mom, to discuss the application process and school options; she purposely pushed some that were located further away to help prep my mom psychologically for what could happen. This counselor told me, "In order for you to take care of your brother one day, you need to take care of yourself now. This means focusing on you, your education, your career, your life. You cannot take care of someone unless you take care of yourself. You need to distance yourself from your family." And that I did once I got accepted to a university about 2 hours (driving) away from my home.
My mother was not happy about it. Once, my father and I were alone in the car, and he asked me why I couldn't go to our local university (a great school, 15 minutes drive from our house). I simply told him that I needed to move away to focus better. He said he understood. My mom, on the other hand, cried multiple times in my final week in San Jose. Once I moved, I was so excited to meet people and was busy also trying to keep a long-distance relationship alive, that I didn't call home everyday like she preferred. She immediately gave me a guilt trip once on the phone, accusing me of "not loving them, not loving my brother" because I was giving attention to other things. Ana's mother, Sarah, put it in this way so many times. And this "guilt" I felt after that comment, was similar to Ana's, who felt conflicted, because her mom saw that "loving her sister" only meant taking care of her in the house routines as well as donating parts of her body as needed. But Ana loved her sister and showed it through their special sibling-friendship that even I have with my own brother.
Sarah sacrificed so much of her life to save Katie's for as long as she could. My mom has done the same as well-- she never put her Bachelor's degree to use and became a stay-at-home mom once she found out Rafael was autistic. It has come to the point that 90% of her conversations are about my brother or her recent job experiences as a paraeducator in special education classrooms. Her marriage was straining; there have been threats of divorce/separation before (which happened in the movie as well). Multiple times in the movie, Sarah has lines along of, "I can't (let go)." That hit me hard. My mom has said directly, "I am not ready to let him go," to both the case manager and myself, for just a one-night stay at a camp for young adults with disabilities.
I think that one of the worse parts of this movie was hearing that Ana "didn't understand" what she was asking for. At the end of the movie, it made it seem that Ana never wanted to stop donating but that Katie convinced her sweet sister to stop. It may have been portrayed differently in the book. Around her age though, I understood the confusion Ana had around her "purpose" and "meaningfulness" to her family. Now (roughly 10 years later), I understand what I NEED. My mom has said that I needed to see what "real life" was, which meant going to SSI meetings, in-home support meetings, etc. I know that it is a part of "real life", but life doesn't mean all work to me. She doesn't see "real life" including enjoying time for myself, nurturing my soul. I know I don't have to sacrifice all that I want to do in my life as she did, but I don't think my mother agrees with my decision. Since I live at home, she sees how frequently I leave to "do my own thing," and how infrequently I have been "babysitting" my brother. But I don't love him any less-- you could hear it in our "conversations" and "sibling fights." I'm giving him the attention that most "typically developing" children in sibling relationships have. But it's not enough to her; I know it, but she stops saying things out loud now.
Ana's "duties" end when Katie passes away. Ana was relatively young; she doesn't have to worry about taking care of Katie when they become adults. For me and my SIB best friend, we think about how we would balance care-taking duties when our parents pass with a personal life & a family life. We've thought about it ever since we first met 10 years ago, and it is ever more salient now, as he is getting 'married' to his partner this year and I have re-considered dating and looking for a potential mate. And this man must be able to tolerate the ups and downs I feel and experience as a SIB.
And well, the balancing act I'm thinking of starts now. I have to re-establish myself as a person who wants to have her own family in the future in my mother's eyes... as a person who may become a mother herself, and when that time comes, I would not be able to abandon what I'm doing or easily alter my schedule to accomodate an "oversight" situation for my brother. I have to show her that our current arrangement NOW will not last forever. And the first step is to once again physically remove myself from their home and move to my own place (it is happening this summer!). But regardless of how far away I am, I hope that my mom will realize that I am and always will be my brother's "Keeper"---I will always love him, I will be in charge of the papers and logistics of his care, I will always be protective of him-- but I owe it to me to be my own personal "keeper."